60+ Chicago-area teachers attend CS Ed Camp at UIC
Computer Science Teachers Association holds CS Ed Camp for K-12 instructors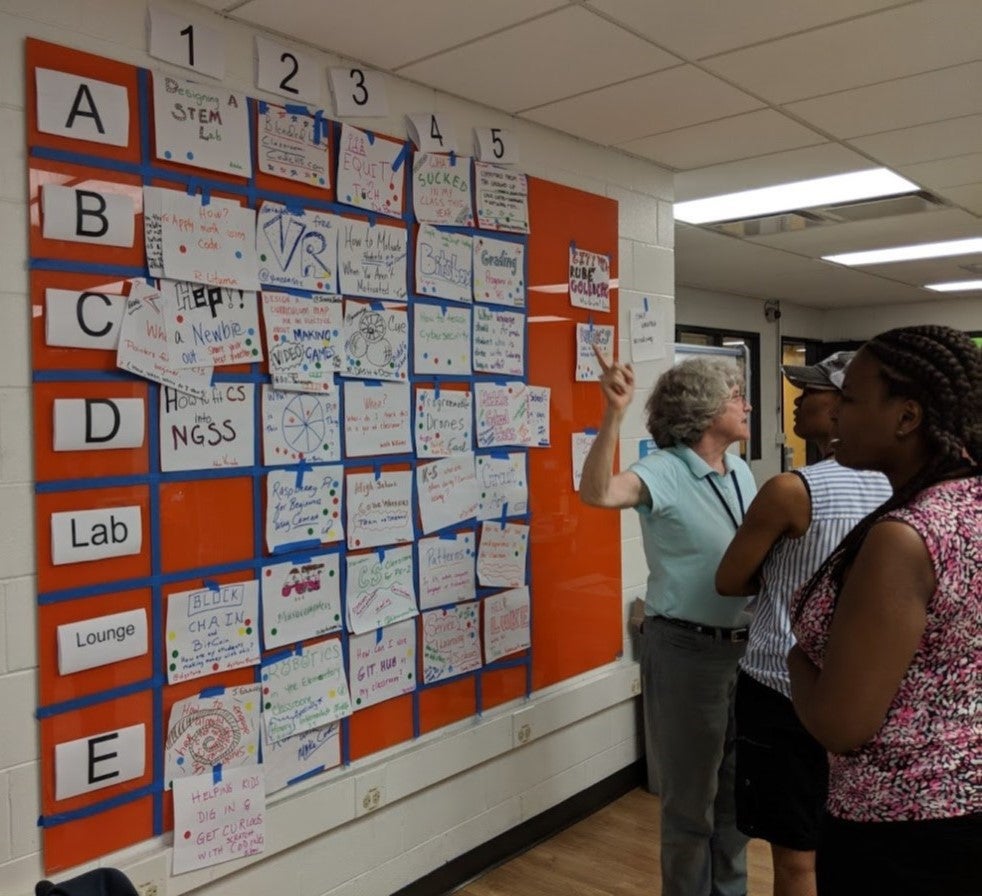 This past weekend over 60 Chicago-area CS teachers helped run the inaugural CS Ed Camp, an "unconference" that was run by the teachers and for the teachers of the 440-member Chicago Computer Science Teachers Association (CSTA). Funded by Google and sponsored in part by the UIC CS Depart-ment, the "unconference" format allowed teachers on the spot to suggest topics in which they were the most interested.
The Computer Science Teachers Association (CSTA) has grown immensely since it was founded in 2004 by the Association of Computing Machinery (ACM). The idea was to provide opportunities for K–12 teachers and their students to better understand computer sci-ence and to more successfully prepare instructors to teach and learn.
Fast forward to today where CSTA's growing member-ship of over 25,000 professionals continues to help empower, engage and advocate for K-12 CS teachers worldwide. Chicago is at the forefront of the growing need to educate more grade school students (and teachers) with its Computer Science for All (CS4All) initiative at Chicago Public Schools (CPS), a move-ment to bring computer science education to every student in the CPS system.
Due to the overwhelming demand of educating teach-ers with computer science curriculum, the Chicago chapter of the CSTA set out to create a CS Education "unconference" where CS teachers can learn from each other's' best practices, lessons and curriculum. Even though there was no obligation or requirement to at-tend CS Ed Camp, registration was full within six hours of opening.
text3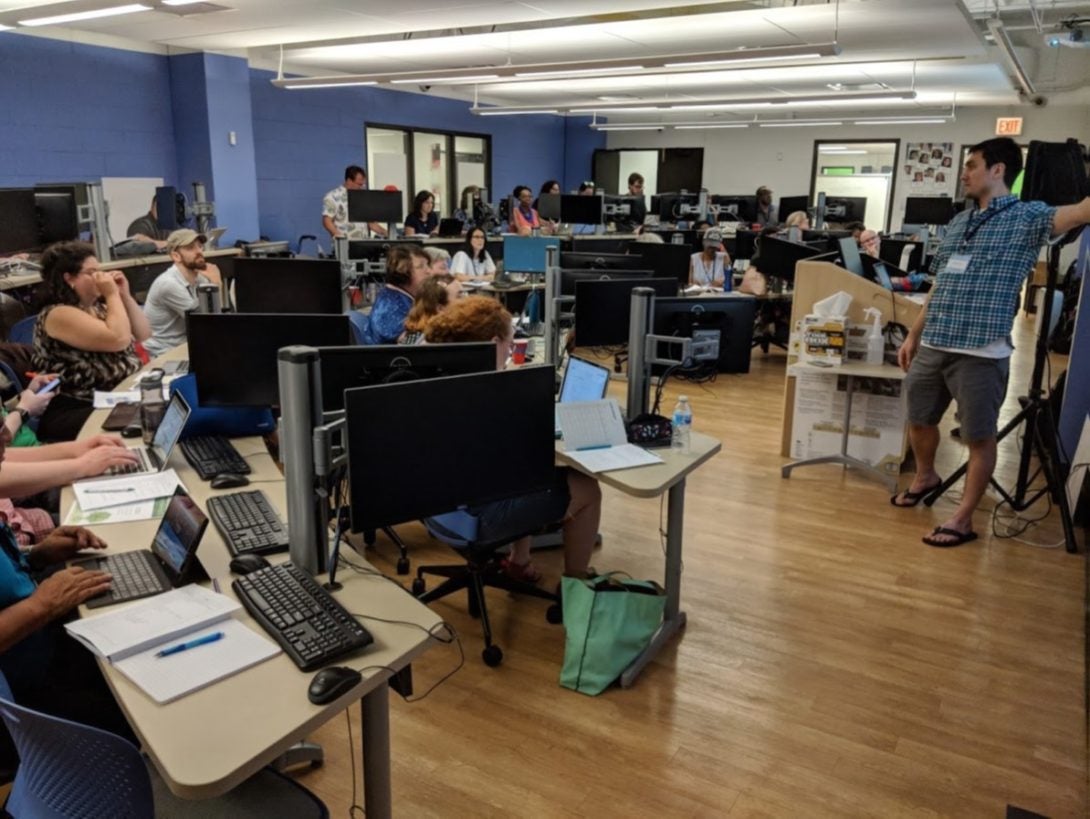 "We were concerned about getting enough attendees to reach critical mass to provide energy for the event, since it is, in fact, participant-led," said Prof. Dale Reed, a founding member of Chicago CSTA. "Watching the registration numbers grow confirmed in our minds that this event seems to be meeting a real need, for teach-ers to be able to exchange ideas on their own terms."
To help open the camp open up to more teachers, the UIC CS De-partment helped provide funding for food and oth-er accommoda-tions so an addi-tional 20 partici-pants were able to register with all of the funding for the camp provid-ed by a grant from Google which Prof. Reed put to-gether and submitted.
"This was the most people for one of our CSTA events ever," said Prof. David Hayes, who helped administer the camp and presented one of the anchor sessions. "Everyone was interested in participating too. Getting together with other people who share your enthusi-asm is so energizing. I also think it helped teachers to know that they are not alone in wanting to provide their students more CS learning opportunities."
The camp was broken down into four anchor sessions introducing cryptography, the Google CS First curricu-lum, mobile web app development and micro:bits, in addition to the unconference session topics that par-ticipants voted on at the beginning of the camp.
"I'm eager to learn the curriculum to help educate my students," said Mike Trahey from Wells Community Academy High School in Chicago. "I look forward to collaborating with other teachers and taking it all in so I am more prepared in the fall." This will be Trahey's first year teaching CS.
text4
Also helping to facilitate the CS Ed Camp were mem-bers of CPS's CS4All program, which has grown con-siderably in size since CPS made CS a graduation re-quirement. The new requirement is in effect for stu-dents starting with the class of 2020 who will be jun-iors this fall. Andy Rasmussen and Faythe Brannon were representing CS4All.
"We feel the CS4All program and curriculum has the capacity to change the mindset of students from con-sumers [of content] to creators," said Brannon. "We want to provide every student with more opportuni-ties and options once they graduate high school."
The push for more teachers to have the necessary tools and resources to teach CS in the Chicago area was more of a ground-up, grass roots movement.
"These teachers are hungry for meaningful CS material for stu-dents," said Hayes. "Teachers have been doing great work on their own in their schools just to pro-vide more opportuni-ties for their students. This camp was a chance for teachers to get active and engaged in ideas and tools they can bring into their classroom next year."
For the Chicago CSTA, they believe this is only the be-ginning for educating and preparing CS teachers.
"The history of educational research is rife with exam-ples of well-meaning and well-funded efforts vanish-ing after the funding dries up, because they have often been an imposition of values and practices imposed from the outside, said Reed. "A culturally relevant ap-proach celebrates, supports and builds upon the ex-pertise that existing teachers bring to the table. CS Ed Camp builds on this ethos of valuing what teachers have to offer. We have a sense that this ethos and model could be both powerful and replicable else-where."
Modified on December 20, 2018