New building for computer science department coming to East Campus
New building for computer science department coming to East Campus Heading link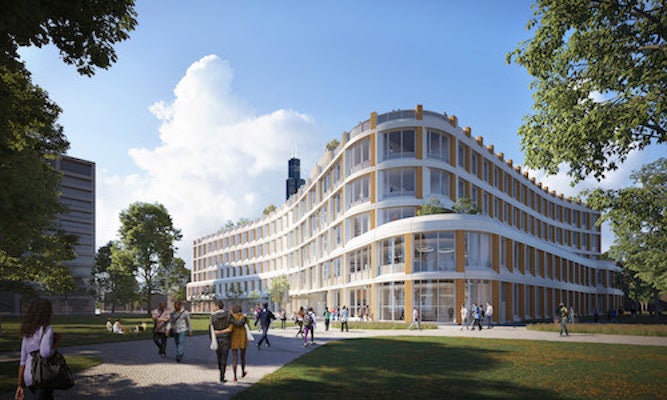 Not long from now, UIC computer science and data science students will have a brand-new building of their own.
Designed to accommodate the computer science department's incredible growth—enrollment has skyrocketed from 185 undergraduates to more than 1,550 in the past 15 years—the new building will be located on UIC's east campus in between two other structures that house College of Engineering classrooms, faculty offices, and student spaces.
The building's 135,000 square feet will include a large open atrium, a dry lab and robotics lab, collaborative teaching and learning spaces, a flexible events space, and an undergraduate learning and community center, in addition to offices for faculty members and others.
It will be environmentally friendly, too. It will feature a geothermal farm and has been designed to achieve LEED Gold certification.
The new computer science building is supported by a $117.8 million allocation by the University of Illinois Board of Trustees. Chancellor Michael D. Amiridis said the project "will meet the needs of students in our growing computer science program and help strengthen the high-tech boom in Chicago."
Construction is expected to start this year, and the building opening is slated for 2023.
Modified on March 02, 2021