SparkHacks brings out UIC community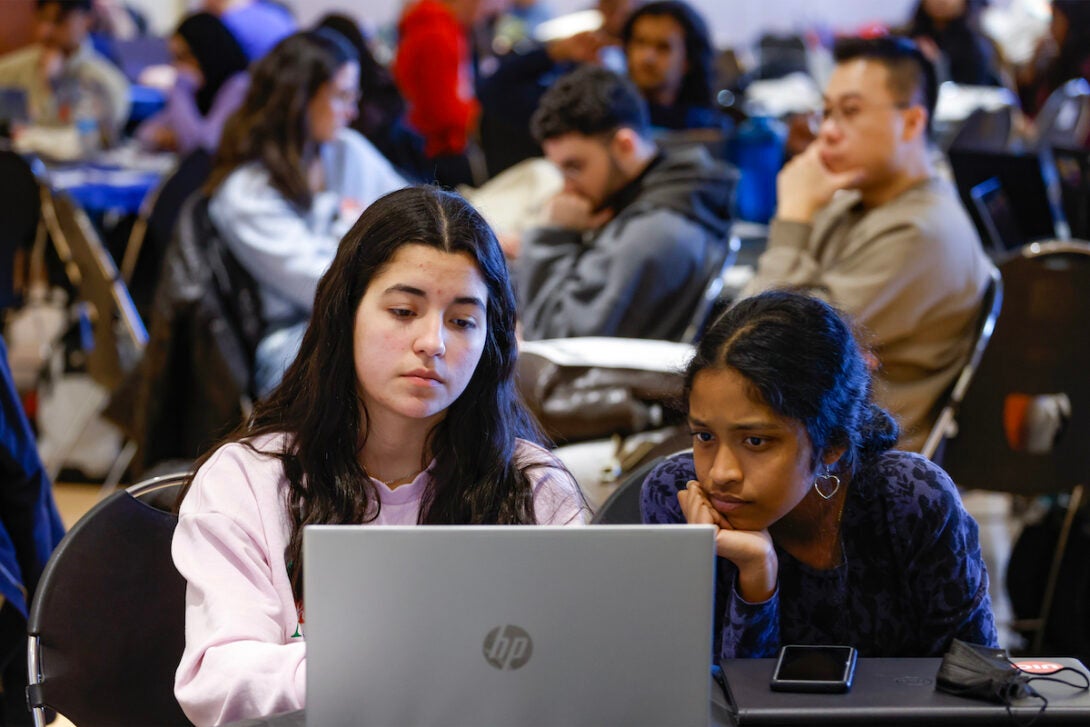 UIC hosted its first university-wide collegiate hackathon, SparkHacks on April 7-8 at Student Center East, with 176 hackers participating and 24 projects submitted.
The Women in Computer Science (WiCS) student group organized the hackathon, and UIC's Association for Computing Machinery (ACM), Linux Users Group (LUG), Latinx Organization for Growth in Computing and Academics (LOGICA), National Society of Black Engineers (NSBE), Society of Women Engineers (SWE), and the Leaf Project co-hosted the event.
The theme of the competition was "community," and teams had to create technology-based projects around that idea. It was a fitting theme, one that resonated with WiCS.
"The UIC computer science department is very large, and diverse. Twice a year, WiCS hosts a scavenger hunt open to all UIC students," said Bhunvi Shah, WiCS president and logistics chair of the event. "Bringing the whole community together is always a blast. We wanted to create that same energy at a larger scale, so we invited the other organizations to collaborate with us."
The event had several sponsors, including UIC's computer science department, UIC's Innovation Center, Caterpillar Inc., CodePath, Grainger, AbbVie, and Salesforce. UIC faculty, along with representatives from the other sponsor organizations, led workshops, provided mentorship, and served as judges for the event. Several UIC alumni were among the sponsoring institutions.
Shah was pleased with the event, adding that the organizers hope to host SparkHacks at UIC annually. She was pleased with the quality of the final projects and noted how helpful students were in making the event successful and a safe, welcoming space.
The overall winner of the event was the team "Helping Hands," including students Adam Beigel, Duc Manh Phan, Christian Sanchez, and Adrian Velazquez.
In the "Community Resilience" category, "CS Course Review" with Alexander Bernatowicz, Martin Michel, Basim Nabulsi, and Pedro Pardo took first place; and "OutThere," including John Hillebrand, Julian Mackenzie, and Rafael Sanchez, Jr. placed second.
In the "Accessibilty" category, team "FitHacks," including Abdullah Ali, Kevin Cordero, Angad Gakhal, Sarvani Kunapareddy, and Salma Mohamed, placed first; while team "Track Guide," with Joel Lovely, Dimitar Gjorgievski, Syed Mehdi, and Syed Shaban placed second.
Team "Tech4All" members Karim Hummos and Marcin Kowalik placed first in the "Bridging the Digital Divide" category. Team "Wendor", including Sam Eimiller, Shankar Kalidini, Zachary Noriega, and Lakshay Sharma took second.
In the "No Code" category, "UIC Go" by Trish Le, Brenda Leyva, and Salvador Tranquilino-Ramos took first place, and "SNAP," with Lakshmi Krishnan, Krima Mehta, and Om Pradhan placed second.