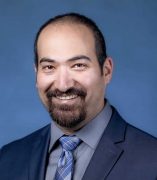 Abolfazl Asudeh
Assistant Professor
Department of Computer Science
Contact
Building & Room:
SEO 1131
Address:
851 S. Morgan St, MC 152, Chicago, IL, 60607
Office Phone:
Email:
Related Sites:
About
My research spans to different aspects of Big Data and Data Science, including data management, analytics, and mining, for which I aim to find efficient, accurate, and scalable algorithmic solutions.
Responsible Data Science and Algorithmic Fairness is my current major focus.
Grants
NSF IIS-2107290 (2021 - 2024):
III: Medium: Collaborative Research: Fairness in Web Database Applications.
Abolfazl Asudeh (Lead PI - UIC), H. V. Jagadish (UofM), and Gautam Das and Shirin Nilizadeh (UTA).
$1M (UIC portion: $292K).
Google Research Scholar Award (2021 - 2022):
An end-to-end system for detecting cherry-picked trendlines.
Abolfazl Asudeh.
$64K.
Selected Publications
2022
2021
2020
2019
2018
2017
2016-
Notable Honors
2021, Google Research Scholar Award, Google Research
2021, Communications of the ACM's Research Highlight, ACM
2019, ACM SIGMOD Research Highlight Award, ACM
2020, VLDB Journal Special Issue on Best of VLDB, VLDB
2017, ACM SIGMOD Most Reproducible Paper Award, ACM