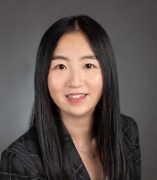 Peihan Miao
Asisstant Professor
Computer Science
Contact
Building & Room:
1136 SEO
Address:
851 S. Morgan St., MC 152, Chicago, IL 60607
Office Phone:
Email:
Related Sites:
About
My research interests lie broadly in cryptography and security, including secure multiparty computation, applied cryptography, secure authentication, and blockchain.
I am looking for motivated students and postdocs. Please send me an email if you are interested in working with me.
Selected Grants
NSF, Collaborative Research: SaTC: CORE: Small: Expanding the Realm of Oblivious Transfer: New Tools for Cryptography, Principal Investigator
Selected Publications
Multi-Party Threshold Private Set Intersection with Sublinear Communication.
Saikrishna Badrinarayanan, Peihan Miao, Srinivasan Raghuraman, and Peter Rindal.
PKC 2021.
Private Set Intersection in the Internet Setting From Lightweight Oblivious PRF.
Melissa Chase, and Peihan Miao.
CRYPTO 2020.
Two-Sided Malicious Security for Private Intersection-Sum with Cardinality.
Peihan Miao, Sarvar Patel, Mariana Raykova, Karn Seth, and Moti Yung.
CRYPTO 2020.
Cut-and-Choose for Garbled RAM.
Peihan Miao.
CT-RSA 2020.
Secretary Markets with Local Information.
Ning Chen, Martin Hoefer, Marvin Künnemann, Chengyu Lin, and Peihan Miao.
Distributed Computing 2019.
PASTA: PASsword-based Threshold Authentication.
Shashank Agrawal, Peihan Miao, Payman Mohassel, and Pratyay Mukherjee.
CCS 2018.
Two-Round Multiparty Secure Computation Minimizing Public Key Operations.
Sanjam Garg, Peihan Miao, and Akshayaram Srinivasan.
CRYPTO 2018.
Obfuscation from Low Noise Multilinear Maps.
Nico Döttling, Sanjam Garg, Divya Gupta, Peihan Miao, and Pratyay Mukherjee.
INDOCRYPT 2018.
Laconic Oblivious Transfer and its Applications.
Chongwon Cho, Nico Döttling, Sanjam Garg, Divya Gupta, Peihan Miao, and Antigoni Polychroniadou.
CRYPTO 2017.
Decentralized Anonymous Micropayments.
Alessandro Chiesa, Matthew Green, Jingcheng Liu, Peihan Miao, Ian Miers, and Pratyush Mishra.
EUROCRYPT 2017.
Secure Multiparty RAM Computation in Constant Rounds.
Sanjam Garg, Divya Gupta, Peihan Miao, and Omkant Pandey.
TCC 2016-B.
Service to Community
Program Committees
2021: CRYPTO, PKC, AsiaCCS, CCS-PPML
2020: NeurIPS-PPML
Education
Ph.D., Computer Science, UC Berkeley, 2019.