Award-winning CS teams at UIC's Engineering Expo
Award-winning CS teams at UIC's Engineering Expo Heading link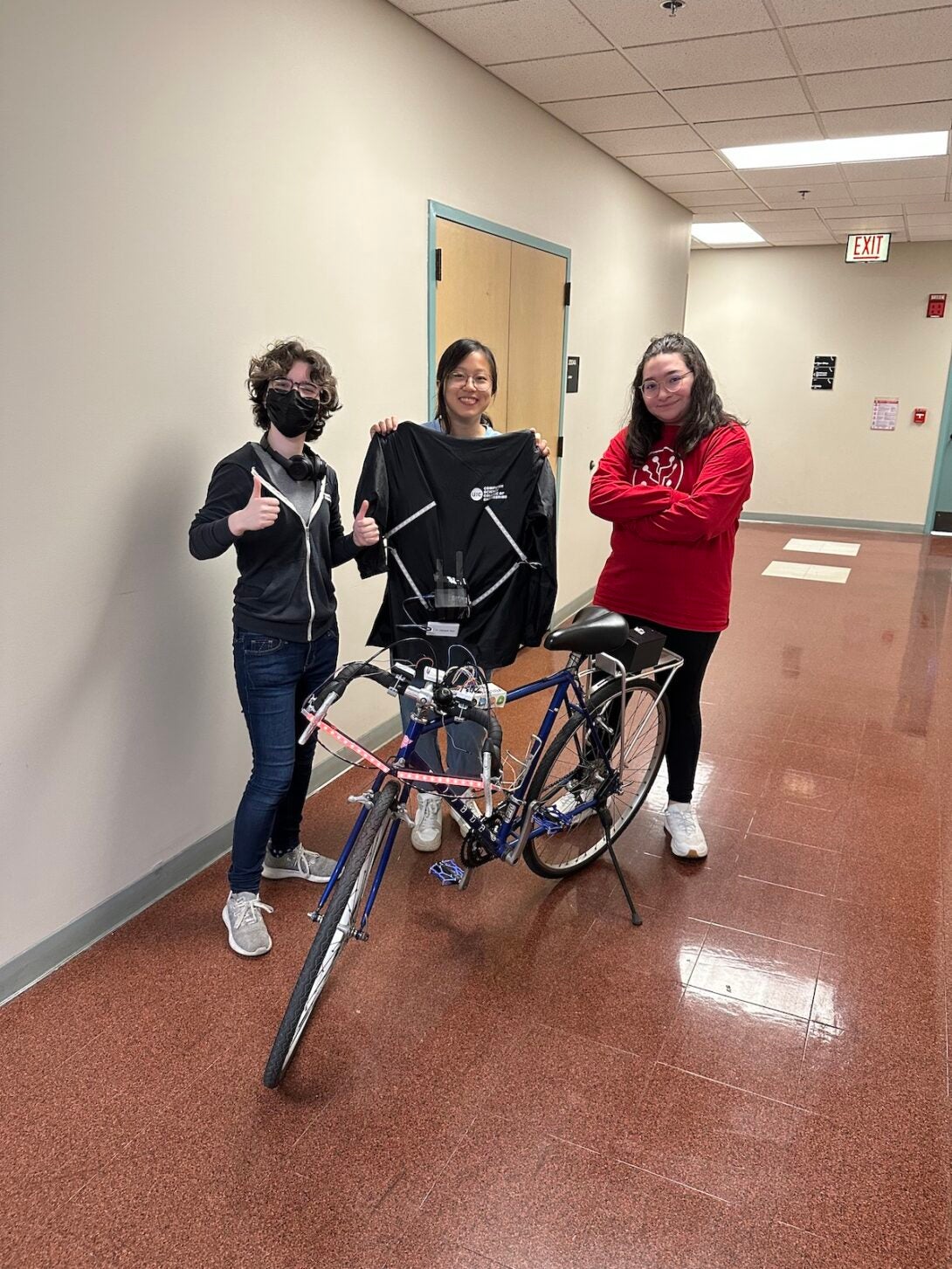 Computer Science students displayed their research, skills, and creativity in the culmination of their required Computer Design (CS 362) class at the annual UIC Engineering Design Expo.
The expo featured teams from across the College of Engineering, who were challenged to solve real-world engineering problems. Six teams took home awards from the judging panel, which included Chicago-area computer science professionals, alumni, and faculty from the College of Engineering.
Team CS 01 received an award in the computer science category for their project, Lite-Bike.  Emily Mendoza, Polly Ruhnke, and Annie You, all cyclists, know the dangers of biking in and around the city, especially at night, and wanted a tool to improve their safety and visibility when riding.
Lite-Bike uses an Arduino platform, front and rear LED turn signals activated by the rider, and a gyro sensor mounted at the rear of the bike, which serves as a crash detection system that activates flashing red lights to warn passersby of a downed, possibly injured, rider.
Read more about the Lite-Bike project.
The CS 31 team of Nawal Khokhar, Filip Kuzma, and Maxwell Olmen developed Othuino, an Arduino-controlled spinoff of the board game Othello,  that won an award in the computer science category.
In this game of strategy, two players take turns placing markers on squares–or in this case lighting LEDs on a display screen–competing to form rows via open spaces adjacent to an opponent's pieces.  The winner is the player who collects control of more squares than their opponent. The team used an Arduino board that records the player's inputs, and gameplay is displayed on a customizable LED display.
Team CS 33 also created a game for their winning submission in the computer science category. Sebastian Barroso, Tiffany Love Stephens, and Tomasz Zabkowski developed X's and O's, an electronic board game that takes input from wireless controllers.
Players alternate spinning a wheel to determine the number of spaces they will move, scoring points. If players land on the same space, a mini-game will be triggered, allowing them to score additional points. Contestants are also able to obtain additional points by landing on lit spaces scattered throughout the board. The winner is the player with the highest number of points after a set number of turns.
Team CS 58 created a wireless laser alarm security system using Arduinos for their win in the computer science category. Dhruv Patel and Demilade Sodipe's system could be used at home or in a business and provides a cost-effective way for students and others to protect valuables.
The system comprises two Arduino platforms, a laser, a motion sensor, and a Wi-Fi module. When the laser connected to one Arduino is breached, an alarm is triggered, sounding a buzzer and lighting LED lights connected to the other Arduino, alerting the owner of the object of an attempted theft.
In the Consumer Product Development – Recreational Devices category, Paul Chiramel of team CS.Paul took home a win for his product, Palpi, which aims to take online dating to the next level by letting the heart literally dictate what it wants.
Via a specially created app on an iPhone, a user would indicate his or her dating preferences and search for matches, just like on a regular dating app. With the Palpi system, the user's connected Apple Watch would issue a notification when a potential match is found and rely on measured increases in the user's heart rate when viewing another user's profile to gauge the quality of the match. App-provided prompts would lead the pair through questions, eliminating awkward initial contacts, and making the connection process smoother.
Team CS.Tim won an award in the Machine Learning category, for SecureSense: A data-driven framework for phishing attack prevention.
Tim Huynh was driven to create his computer framework to thwart phishing, a fraudulent technique used by cybercriminals to acquire sensitive information such as logins, passwords, and account details, by posing as reputable companies or individuals. Phishing attacks are often sent via emails or text messages, and lead to fake websites that resemble legitimate sites.
Through a combination of technical measures including firewalls and antivirus software, SecureSense allows individuals to more easily identify and avoid phishing attempts.
Learn more about all of this year's CS 362 projects on the Engineering Expo website.