Undergraduate Student Resources
This page provides information, forms, policies, and procedures for current UIC undergraduates in computer science. If there is any department, college, or university information that you need and don't see here, please email us to let us know, and we will do our best to add it!
Academic advising
All UIC College of Engineering undergraduates are required to meet with an academic advisor before they are able to register for classes each semester. An "advising hold" will be placed on your account, which will not be removed until you have completed an advising meeting. In fall and spring, you will receive an email about signing up for an appointment. You should complete your appointment before registration becomes available in the 11th week of the semester.
If you do not hear from your advisor by the ninth week of the semester, we encourage you to reach out to your advisor immediately. You can find your advisor on the advising list.
When you come to your advising meeting, you must bring your DARS report, list of courses you are interested in taking for the next semester, and any questions you have. During or after the advising meeting, fill out the advising form with your advisor and submit it to the CS Student Affairs office in SEO 905. Keep your white copy for your records. Staff in the office will remove your advising hold within two to three business days. If you have questions, contact Student Affairs at 312-413-4950/ 312-996-2290 or ugrad@cs.uic.edu.
Tutoring
The computer science department offers peer-tutoring services that focus on 100, 200, and 300 level courses. A list of current tutors and the schedule is available via this link. Generally, tutoring is available no earlier than 10am and no later than 9pm from Monday through Friday in 2250 SELE. No appointment is necessary.
Transfer credits
All transfers and credits are handled through the College of Engineering, not directly through the computer science department. Please see an academic advisor in Room 123 of the SEO building or call 312-996-3463.
Students with disabilities
UIC and the computer science department are committed to providing an educational environment that is accessible to all students. In accordance with this commitment, students in need of accommodations due to a disability are encouraged to contact the Disability Resource Center (phone: 312-413-2183) for determination of reasonable accommodations as soon as possible.
Arshad Narmawala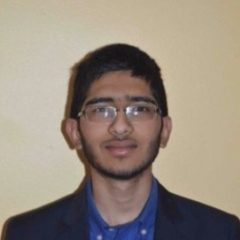 "I knew I liked building things and solving problems, so engineering seemed like a good fit for me. On campus, I spend a lot of time in the CS Lounge. There are so many like-minded people in the same space helping one another out. It's inspiring and motivating. Off campus, my favorite place in Chicago is Indian Boundary Park Pond. It's a medium-sized pond that has turtles in it, and it's a great spot to relax and forget about all your worries."

|