Computing superpower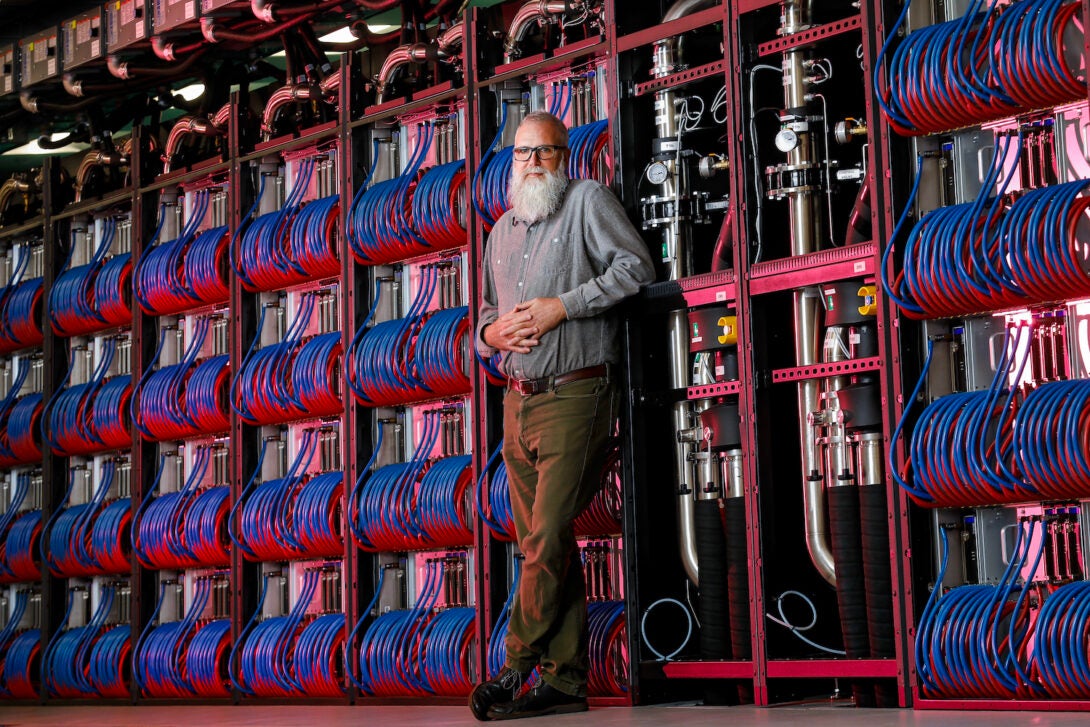 Michael E. Papka, a professor in UIC's computer science department, stands with the Aurora supercomputer at Argonne National Laboratory.
Papka holds a joint appointment with Argonne National Laboratory, where he works as a senior scientist, and serves as deputy associate laboratory director for Computing, Environment and Life Sciences and as director of the Argonne Leadership Computing Facility (ALCF).
When the Aurora supercomputer is complete and goes online, it will be among the United States' most powerful exascale machines used for research. It is expected to have more than 2 exaflops of peak computing power, capable of more than 2 billion billion (a quintillion) calculations per second. The supercomputer, sponsored by the United States Department of Energy and designed by Intel and Hewlett Packard Enterprise, gives scientists a new tool for research initiatives including climate change modeling, cancer drug discovery, nuclear fusion, and cosmology.
In addition to traditional simulation capabilities, Aurora will be able to run a greater diversity of workloads, including machine learning and data-intensive tasks.
The computer will be available to the scientific and engineering community to advance fundamental discovery and understanding in a broad range of disciplines. The U.S. Department of Energy's Office of Science, Advanced Scientific Computing Research (ASCR) program, is one of two DOE Leadership Computing Facilities in the nation dedicated to open science.
Modified on November 16, 2022