CS 362 students build touchless LED light drawing board
CS 362 students build touchless LED light drawing board Heading link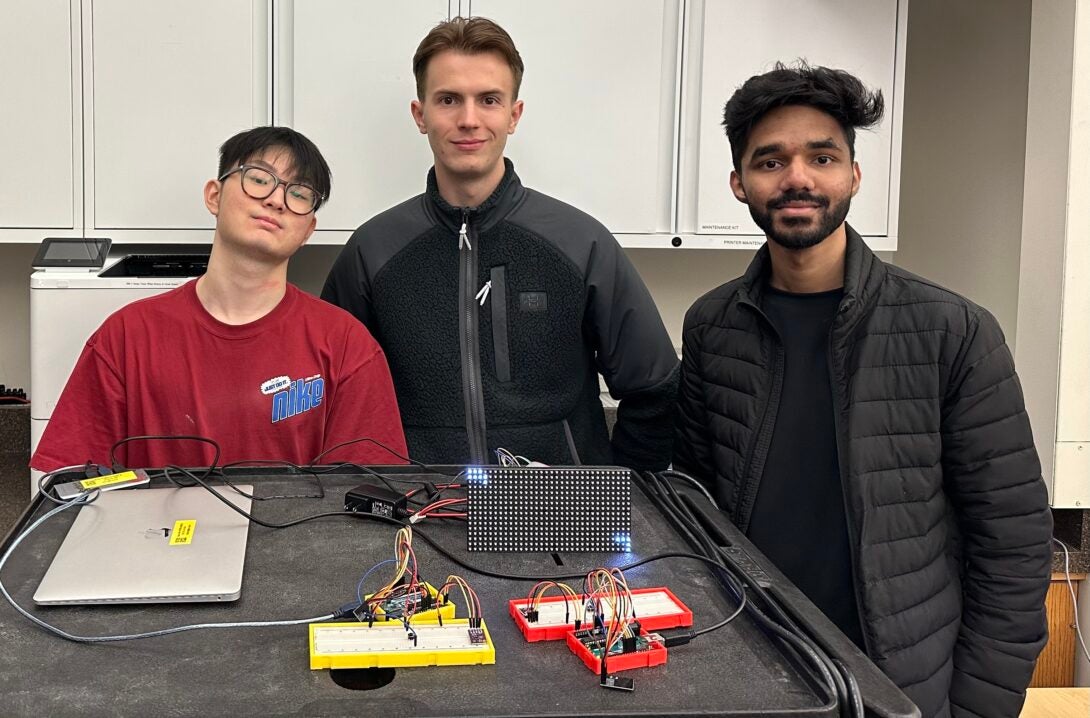 Computer science students Kiryl Baravikou, Anupreet Paulkar, and Chalmers Phua decided to get creative when they chose a project for their Computer Design class (CS 362), opting to design a tool for artistic expression.
Baravikou, Paulkar, and Phua, team CS28, originally intended to build a mini-game controller, but instead created the art project, using a PAJ7620 hand gesture recognition sensor, a radio-frequency chip, and a 32×16 LED panel. The user gestures with their fingers, "drawing" on the LED panel by lighting up areas that correspond to the selected movements.
Jacob Cohen is a teaching assistant for CS 362 and was impressed with the idea behind the project.
"They had to describe a working prototype of the project, and this one caught my eye," Cohen said. "The sensor will tell you what it detects: no hand gesture, swiping right, left, up, or down."
The semester-long CS 362 course focuses on computer hardware building blocks, including logic gates, circuits, central processing unit (CPU) design, and input-output (I/O) design. It culminates with presentations of completed prototypes at UIC's Engineering Expo.
"This is the first time many of our students build something physical as part of their core courses," said Clinical Assistant Professor Diana Diaz, who teaches CS 362. "I think students enjoy it a lot because they get to use hardware components."
Phua, a junior, is president of UIC's Aeronautics and Astronautics student group, had previous experience working with electronic components.
"Building rockets involves a lot of electronics. As a CS major, that gives me a chance to explore something I might need to know in the future," Phua said. "I like working on projects like this, that are hands-on."
Phua, an international student, hopes to find an internship before graduation.
Baravikou, a senior, studied dentistry before coming to the U.S. and studying computer science at UIC. He is focused on graduation and his own side projects. He hopes to start a company utilizing both computer science and his medical background, helping people overcome limitations from disabilities.
Paulkar is also a senior and has a software engineering concentration and an entrepreneurship minor. He hopes to work for a technology, fintech company, or startup, then ultimately start his own business.
The team will be one of hundreds from UIC's College of Engineering showcasing their projects at the Engineering Expo held at the UIC Isadore and Sadie Dorin Forum on Friday, April 21, from 1 p.m. to 4 p.m.
Modified on April 21, 2023