Illinois Department of Transportation awards $5.1M to computer science department
Illinois Department of Transportation awards $5.1M to computer science department Heading link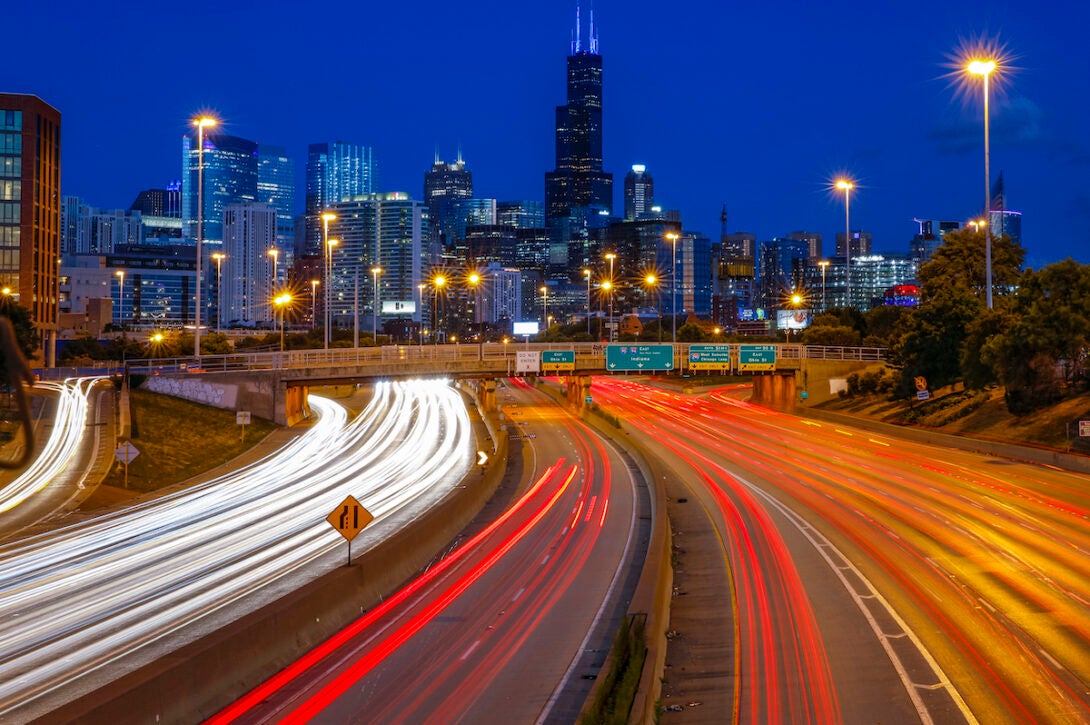 Professor Peter Nelson and Senior Research Scientist John Dillenburg's Intelligent Transportation System (ITS) research has been awarded a grant to continue researching improvements to the state's roadway transportation systems by the Illinois Department of Transportation (IDOT).
Their work has been integral to IDOT's ability to operate and maintain surface transportation systems throughout Illinois.
The benefits of the research are most visible through the Gateway Traveler Information System (GTIS) and its website, www.TravelMidwest.com.  The GTIS is used by hundreds of thousands of travelers and hundreds of transportation agencies, private companies, and researchers each month. The website, data centers, servers, and networks are all maintained by Nelson and his staff in the AI Laboratory.
"This latest round of funding will cover the maintenance and operations of GTIS and its TravelMidwest.com website," Dillenburg said. "The GTIS requires 24/7 monitoring by a dedicated UIC staff of engineers, students, and professionals."
The GTIS is so useful to IDOT and the traveling public that it was expanded via multi-state alliances into Minnesota, Wisconsin, Iowa, Missouri, Indiana, Ohio, and Michigan. More recently, the GTIS has improved and focused its coverage on Illinois and surrounding areas.
Dillenburg, associate director of the UIC AI Laboratory, will continue to serve as the overall project manager for the AI Lab, managing a team of over 40 engineers, software developers, operators, and computer science interns. In addition to Dillenburg, who began working on closely related projects with Nelson in 1989, the team includes senior software engineer Doug Rorem, who was recruited in 1990 to the AI Lab when he was an MS student after taking Nelson's introduction to artificial intelligence course; software engineer Anjum Malik, who was hired in 2008 and is now the GTIS operations manager; and Daniel Roe, who was also hired in 2008 and is now assistant manager.
This work has been previously supported by the Federal Highway Administration, the Federal Transit Administration, the National Research Council, the Illinois Department of Transportation, the Illinois State Toll Highway Authority, the Wisconsin Department of Transportation, the Chicago Department of Transportation, and numerous private corporations. In total, Nelson's ITS research has received over $40 million in funding from IDOT, at a rate of over $2 million per year.
The grant will fund several sub-projects for IDOT, including the deployment of a machine vision truck parking information management system developed by UIC, which uses sensors and cameras to provide real-time updates via roadside signs to commercial truckers, so they can efficiently identify open spots for a rest period. The project will also fund the integration of the GTIS with a statewide transportation management system, and expand the UIC-developed lane closure system to other IDOT districts.
Nelson and Dillenburg are co-principal investigators on the grant.
Modified on January 23, 2023