International CS student builds out impressive resume throughout her undergraduate career
International CS student builds out impressive resume throughout her undergraduate career Heading link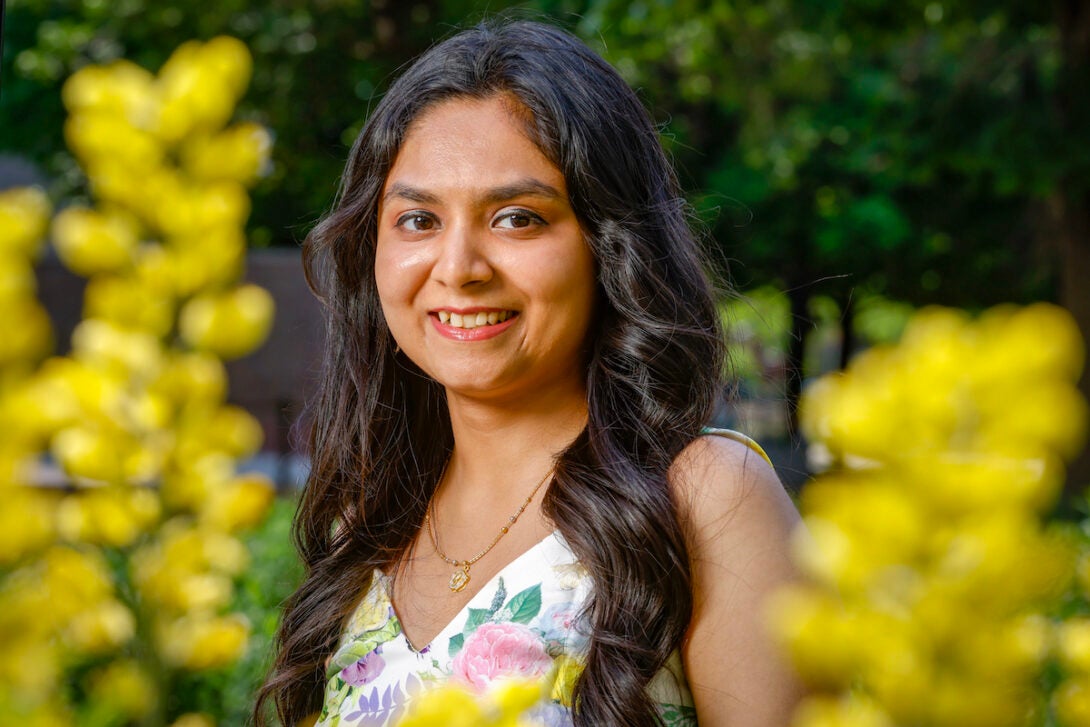 Finding internships and work experiences to round out a college education can be challenging, especially for international students. Visa requirements severely limit eligibility to accept off-campus employment.
Hasti Mehta, a computer science major from Mumbai, India, has applied the same tenacity to rounding out her college resume as she did to obtain her acceptance to study at UIC. She's worked as a teaching assistant, participated in paid internships at UIC, volunteered with many organizations, published one research paper and is working on a second, and has been recognized with numerous awards during her time at UIC. After graduation, the senior hopes to work with a Chicago-based company, under the H1-B visa program for foreign workers.
"I come from a middle-class family in India," Mehta said. "My mom is a teacher and my grandmother was a teacher, so I've always been given the values that sharing knowledge and seeking knowledge is everything."
Last spring, Mehta attended Girls Who Code's 10th Anniversary Celebration in New York. She had worked as a Summer Immersion Program instructor in Chicago and was hoping to obtain a teaching position with the organization but wasn't able to accept the role due to her visa status. Mehta was determined to attend the event, and after speaking with countless people at Girls Who Code, was able to attend the event free of charge.
In addition to interning with Girls Who Code in Chicago, Mehta was a teaching assistant for CS 211, Programming Practicum, and CS 251, Data Structures. She also serves as a student success mentor for students who have transferred to UIC.
Her academic work at UIC has been recognized many times.  She's received the Chancellor's Student Service Award, made the Dean's list, and is a member of the Phi Theta Kappa Honor Society. Mehta is also a Presidential Scholar recipient, received a Times Mile Grant, and an AmeriCorps VISTA scholarship.
In May, Mehta worked on a research project, The Quest for Prime Numbers, under Evangelos Kobotis, a senior lecturer in the mathematics, statistics, and computer science department. She is beginning a new research paper in January with CS Associate Professor Ian Kash, in the area of AI.
Over the summer, Mehta completed three internships. She had a paid Sprinternship through Break Through Tech Chicago in the area of machine learning. After this three-week-long mini-internship, she was offered a full-time internship for the remainder of the summer. This was with the Illinois Department of Transportation, under John Dillenburg, a senior research scientist in UIC's AI Laboratory, and College of Engineering Dean Peter Nelson. Mehta also had a 10-week remote Early Research Scholarship Program research experience at the University of California San Diego, in data analysis. Finally, she volunteered with AmeriCorps VISTA, a federal agency for national service and volunteerism, in a data engineering role.
In addition to her schoolwork, Mehta has gotten involved in the UIC community and Chicago area in other ways. She worked with the Center for Student Involvement, joined the hiking group at UIC through the rec center, and hopes to join the swim team.
"I was a rifle shooter at the international level in India, but there is no team here," Mehta said.
Mehta also attends the BAPS Shri Swaminarayan Mandir, a Hindu place of worship in Bartlett, where she volunteers her time on weekends.
She hopes to obtain a work visa to stay in the U.S. and the Chicago area. She recently interviewed for a data engineering position with Travelers.com, after impressing a company executive she met while attending Girls Who Code's anniversary party in New York. She's interviewing with other companies as well, hoping to land a full-time position in 2024.
"I have to seek knowledge and experiences where I can," Mehta said. "I like to contribute to every community I join."