Meet 2023 graduate Yelyzaveta Andryushchenko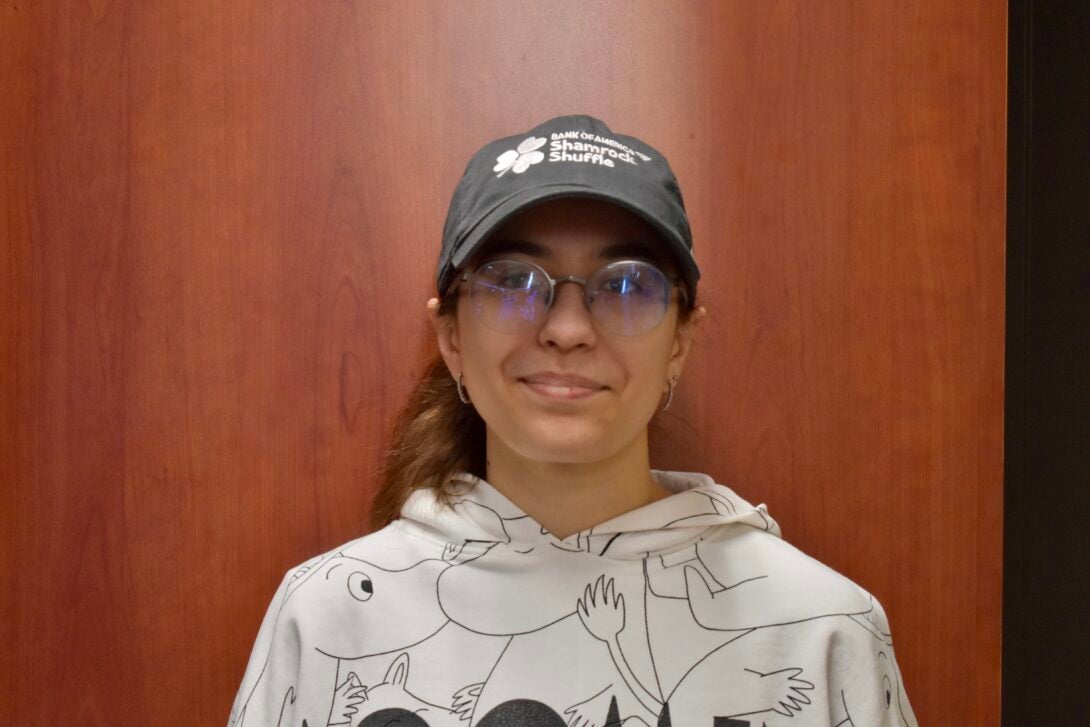 Yelyzaveta Andryushchenko was fairly new to the U.S. when she faced the college application process, lacking familiarity with the peculiarities of the American higher education admission system, and how various schools compared. Three years after starting at UIC, the computer science (CS) major and math minor graduated in May, with an industry job lined up for the fall, and acceptance to an online master's degree program.
Andryushchenko emigrated to the U.S. from Ukraine in her junior year of high school, living with her aunt and attending York Community High School in suburban Elmhurst. She had hoped to major in aerospace engineering but did not find such a program nearby, and needed to be able to commute to school. She toyed with entering a mechanical engineering program, then transferring to a school with an aerospace major, but she realized it was best for her to declare a major and stick with it. She opted to attend UIC, and major in CS.
"UIC had good reviews on their engineering programs," Andryushchenko said. "I didn't apply to as many schools as everyone else did, but I applied to schools I'd be happy to attend, that was my criteria."
She took several computer science classes in high school and at the College of DuPage. She completed her mathematics coursework before college but eventually decided to minor in mathematics. Though she could've skipped a few CS classes at UIC, she was grateful she listened to her UIC advisor, who cautioned her that the material in AP classes differed from what she'd learn in UIC's courses.
Andryushchenko has lived on her own since she started college, and for the first two years faced a daunting commute, leaving at 5 a.m. to arrive in time for her morning classes. This year, she received a housing grant, which allowed her to live on campus.
Andryushchenko worked as a teaching assistant for many CS courses, including CS141, Program Design II, and CS 341, Programming Language Design and Implementation, under Clinical Associate Professor Joe Hummel; CS 111, Program Design I, and CS 251, Data Structures, for Clinical Associate Professor Shanon Reckinger; and CS 361, Systems Programming, for Assistant Professor Luis Pina.
She also participated in UIC's Undergraduate Research Experience, working with Hummel.
"That was really fun; it was a great experience," Andryushchenko said. "At that point, I was considering going to work in academia."
She has been accepted to Georgia Tech's online graduate school but decided to defer enrollment and gain industry experience first.
Last summer, she had an internship with Audible, a subsidiary of Amazon. She really enjoyed the work and the culture at the company and happily accepted a full-time position beginning this fall.
Her family flew in for her graduation last month, a happy occasion as Andryushchenko was unable to return home last year. For the summer, Andryushchenko will return home to Ukraine, visit family there, and travel across Europe with her sister, who lives in Poland.
She advises potential students that UIC can provide a quality education.
"Don't expect an easy program," Andryushchenko said. "Not everyone realizes how hard the major is, and how demanding."
Modified on June 01, 2023