Meet Rayaan Siddiqi, a 19-year-old CS graduate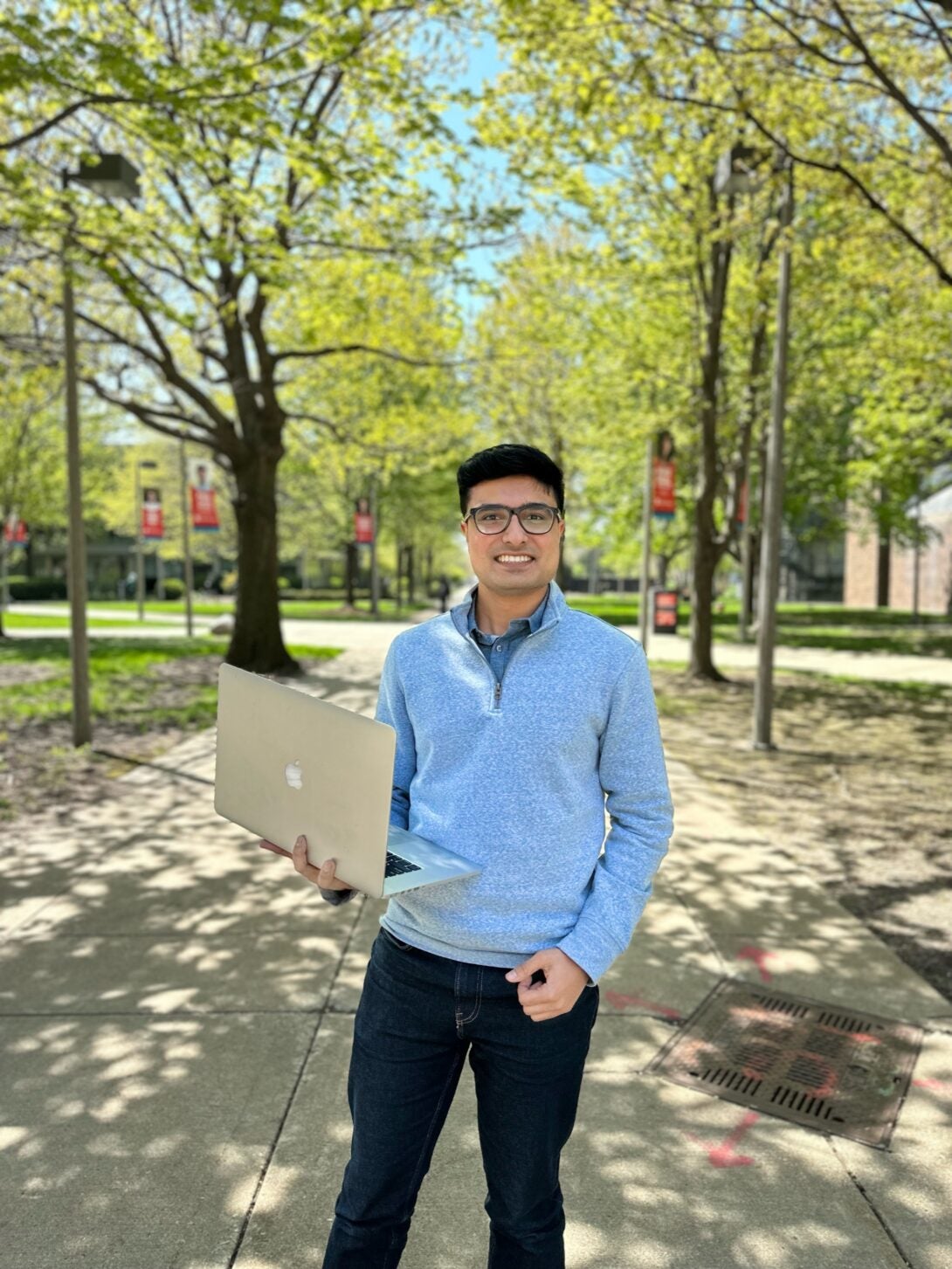 In May, Rayaan Siddiqi graduated with a bachelor's degree in computer science, just two years after his arrival at UIC. Armed with approximately 50 credit hours from advanced placement courses and dual placement credits he earned while in high school, Siddiqi sped through the challenging major, taking as many classes as possible, including over summer and winter breaks. He averaged 19 credit hours per semester.
"The first semester was a lot of balancing," Siddiqi said. "I had to utilize my time management skills."
He used his Metra commute from his family home in Schaumburg to tackle some of his homework assignments and studying, adhering to the mentality that the earlier in the day he can accomplish something school-related, the more time he has later to pursue leisure activities.
"I've never had to miss a family event, a birthday, or a family gathering," Siddiqi said. "That's one of the things I take the most pride in; I've never had a disconnect with my family and what's happening with them on a daily basis."
Family is very important to Siddiqi. His parents emigrated from Pakistan to the U.S. when they were starting a family, about 20 years ago. He has a sister in high school and a brother in grade school. His parents arrived in the U.S. with "literally nothing," and he grew up watching his parents work hard to build a nice life for their family.
"I got that mentality that if they could come from a different country into a land where nothing was known, what motive, what excuse do I have?" Siddiqui said.
Siddiqi's work ethic was honed long before he arrived at UIC. Originally intent on becoming a lawyer, a computer science course in his sophomore year in high school changed his career trajectory. He dove into the world of computer science, developing a program for middle school children called Tech Bytes. He contacted area libraries to see if any were interested in hosting his program and secured a home at the Schaumburg Library with a handful of students participating. During the pandemic, he took the program online, expanding it to three libraries with virtual participation at additional libraries. Today, over 2,000 hours of content in various coding languages are available on YouTube through the Schaumburg library. He stepped down as program lead but is still in touch with current instructors.
He also wrote an autobiographical fiction book, The Switch Up, that focuses on a minority high school student who forges his own path to define success and succeed in the tech world. Siddiqi said the book is featured in 25 Illinois libraries, with over 500 copies sold.
Despite his heavy course load at UIC, Siddiqi participated in UIC's Undergraduate Research Experience,working with Research Professor Lenore Zuck and Associate Professor Chris Kanich. During this time, he co-authored a paper with Zuck, Kanich, and graduate student Shubham Singh, "Tracking, But Make It Offline: The Privacy Implications of Scanning QR Codes Found in the World," which was accepted by a workshop at the IEEE Conference for Security and Privacy.
He also interned with the Chicago company SPEDxchange, which focuses on special education services. Siddiqi recently started as a full-stack software engineer with the company, following his May graduation. He intends to stay in the software industry and hopes to one day start his own company.
Sidiqqi shares his experience with younger family members and offers some advice to those starting the college application process.
"If you're determined to make something work, you will make it work–jobs, internships, all of that will fall into place," Siddiqi said. "Take advantage of opportunities, the skill set you develop is much more important."
Modified on June 06, 2023