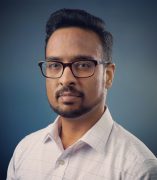 Balajee Vamanan
Assistant Professor
Department of Computer Science
Pronouns: He/Him/His
Contact
Building & Room:
1240 SEO
Address:
851 S. Morgan St, MC 152, Chicago, IL, 60607
Office Phone:
Email:
Related Sites:
About
I got my bachelor's degree from Birla Institute of Science & Tech. (BITS), Pilani  in India. Before starting my Ph.D., I worked for a few years as a hardware design engineer at Nvidia Corporation. During this time, I was fortunate to lead the design of the memory system for the first unibody MacBook Air! But I wanted to do more open-ended research and made a transition back to academia by joining the Ph.D. program at Purdue University. I graduated with a Ph.D. from Purdue University and joined UIC in the October of 2015 as an Assistant Professor.  I spent the summer and fall of 2012 at Google on datacenter congestion control and load balancing.
My research interests primarily lie in various aspects of computer networks: datacenters, low-latency networks, architecture of routers, cellular networks, programmable routers, etc. Nevertheless, I am broadly interested in computer systems research as an area and I do dabble on research topics such as in-memory caches and architecture of memory systems from time to time.
Please see my homepage for detailed information about my research, publications, lab, students, open positions, and service.