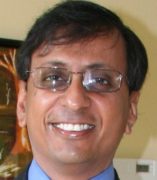 Bhaskar DasGupta
Professor
Department of Computer Science
Contact
Building & Room:
1226 SEO
Address:
851 S. Morgan St, MC 152, Chicago, IL, 60607
Office Phone:
Email:
Related Sites:
Selected Publications
Not published yet(in preparation, submitted etc.)
Bhaskar DasGupta, Mano Vikash Janardhanan and Farzane Yahyanejad, How did the shape of your network change? (On detecting network anomalies via non-local curvatures), arXiv:1808.05676 [cs.DS], 2018.
Tanima Chatterjee, Bhaskar DasGupta, Laura Palmieri, Zainab Al-Qurashi and Anastasios Sidiropoulos, Alleviating partisan gerrymandering: can math and computers help to eliminate wasted votes?, arXiv:1804.10577 [cs.CY], 2018.
Bhaskar DasGupta and Nasim Mobasheri, On optimal approximability results for computing the strong metric dimension, Discrete Applied Mathematics, 221, 18-24, 2017.Here are some pdf slides for these results (from the talk at the 8th Slovenian International Conference on Graph Theory, Kranjska Gora, Slovenia, 2015).
Andreas D.M. Gunawan, Bhaskar DasGupta and Louxin Zhang, A Decomposition Theorem and Two Algorithms for Reticulation-Visible Networks, Information and Computation, 252, 161-175, 2017.
Bhaskar DasGupta and Venkatkumar Srinivasan, A Review of Several Optimization Problems Related to Security in Networked System, in Operations Research, Engineering, and Cyber Security : Trends in Applied Mathematics and Technology, N. J. Daras and Th. M. Rassias (editors), Springer Optimization and Its Applications series, 113, 155-166, 2017.
Service to Community
The department of Mathematics, Statistics, and Computer Science is seeking applicants for a tenure-track Assistant Professor to join the mathematical computer science group. Please see the job posting here for more details.
Education
Ph.D., University of Minnesota, Minneapolis, 1995