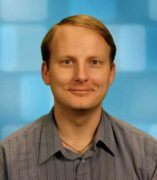 Mitchell Theys
Clinical Associate Professor
Department of Computer Science
Contact
Address:
851 S. Morgan St, MC 152, Chicago, IL, 60607
Office Phone:
Email:
Related Sites:
About
Research:
I am currently interested in Improving the Undergraduate Experience.
If you are interested in working with me please send me a note. I am not currently looking for any students, but if you have a good idea, or if your interests align with mine, there may be some opportunities.
A current vita is available upon request. If you have questions or comments, please feel free to send me an email.
Education
Ph.D., Purdue University, 1999
Professional Memberships
Senior Member of the IEEE and Professional Member of the ACM