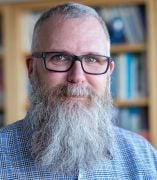 Michael E. Papka
Professor
Department of Computer Science
Pronouns: He/Him/His
Contact
Building & Room:
SEO 1133
Address:
851 S. Morgan St. Chicago IL 60607
Email:
CV Link:
Related Sites:
About
At UIC, I am a professor of computer science and part of the Electronic Visualization Laboratory. My research interests are in high-performance computing, large-scale data analysis, and visualization in the support of knowledge discovery. My current work focuses on the role of edge technology in smart cities, large data analysis, and visualization, and using new technologies to identify new opportunities in science.
I hold a joint appointment with Argonne National Laboratory, where I work as a senior scientist and currently serve as deputy associate laboratory director for Computing, Environment, and Life Sciences and as director of the Argonne Leadership Computing Facility.
Notable Honors
2021, The Secretary of Energy Achievement Award (High Performance Computing Resource Team), United States of America - Department of Energy
2016, 2020, Excellence in Teaching, Department of Computer Science, Northern Illinois University
2014, UIC City Partner, University of Illinois Alumni Association
2007, R&D 100 Award (for Access Grid 3.0), R&D Magazine
Education
Ph.D., Computer Science, University of Chicago (2009)
M.S., Computer Science, University of Chicago (2002)
M.S., Electrical Engineering and Computer Science, University of Illinois Chicago (1994)
B.S., Physics, Northern Illinois University (1990)
Professional Memberships
Senior Member: ACM, IEEE
Member: AAAS