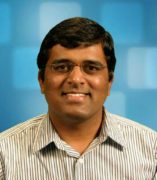 V. N. Venkatakrishnan
Professor
Department of Computer Science
Contact
Building & Room:
1131 SEO
Office Phone Voice:
(312) 996-4860
Email:
Related Sites:
About
Research Interests:
My research areas broadly span topics in Computer Systems Security, with use of ideas from compilers, operating systems and formal methods for defending cyber attacks.
Students:
I've been fortunate to work with a group of outstanding students and postdocs!
Current Student Advisees
Maliheh Monshizadeh (Ph.D)
Abeer Alhuzali (Ph.D)
Sadegh Momemi (Ph.D)
Vijay Sai Prasanth Kommini (M.S.)
Current Postdocs
Past
Teaching:
Fall 2015: CS487 : Building Secure Computer Systems
Fall 2015 office hours: MW 11.a.m.-noon in SEO 1131.
Fun stuff:
I am a member of the following Chicago-area organizations:
Education
I graduated with a Ph.D in Computer Science in December 2004, from Stony Brook University (formerly, SUNY @ StonyBrook). My advisor was R. Sekar.