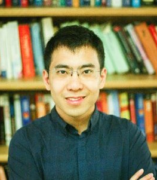 Xiaorui Sun
Assistant Professor
Department of Computer Science
Contact
Building & Room:
1241 SEO
Address:
851 S. Morgan St, MC 152, Chicago, IL, 60607
Office Phone:
Email:
Related Sites:
About
I am an assistant professor in the Computer Science Department of University of Illinois at Chicago.
Prior to joining UIC, I was at UC Berkeley Simons Institute and Microsoft Research. I received my Ph.D. in 2016 from Columbia University, where I was fortunate to be advised by Xi Chen.
Research Interests:
Design and analysis of algorithms, including graph algorithms, parallel algorithms, dynamic algorithms, and distributed algorithms.
Selected Publications
Parallel Batched-Dynamic Graph Algorithms in Constant Rounds
David Durfee, Janardhan Kulkarni, Laxman Dhulipala, Richard Peng, Saurabh Sawlani, Xiaorui Sun
SODA 2020
Approximation Algorithms for LCS and LIS with Truly Improved Running Times
Aviad Rubinstein, Saeed Seddighin, Zhao Song, Xiaorui Sun
FOCS 2019
Massively Parallel Approximation Algorithms for Edit Distance and Longest Common Subsequence [link]
MohammadTaghi Hajiaghayi, Saeed Seddighin, Xiaorui Sun
SODA 2019
Approximating LCS in Linear Time: Beating the Barrier [link]
MohammadTaghi Hajiaghayi, Masoud Seddighin, Saeed Seddighin, Xiaorui Sun
SODA 2019
The Query Complexity of Graph Isomorphism: Bypassing Distribution Testing Lower Bounds
Krzysztof Onak, Xiaorui Sun
STOC 2018
Efficient Massively Parallel Methods for Dynamic Programming
Sungjin Im, Benjamin Moseley, Xiaorui Sun
STOC 2017
Faster Canonical Forms for Primitive Coherent Configurations [arxiv]
Xiaorui Sun, John Wilmes
STOC 2015
Invited to the SIAM Journal on Computing Special Issue
On the Complexity of Optimal Lottery Pricing and Randomized Mechanisms
Xi Chen, Ilias Diakonikolas, Anthi Orfanou, Dimitris Paparas, Xiaorui Sun, Mihalis Yannakakis
FOCS 2015
Near-Optimal Density Estimation in Near-Linear Time Using Variable-Width Histograms[nips]
Siu On Chan, Ilias Diakonikolas, Rocco Servedio, Xiaorui Sun
NIPS 2014
Efficient Density Estimation via Piecewise Polynomial Approximation [arxiv]
Siu On Chan, Ilias Diakonikolas, Rocco Servedio, Xiaorui Sun
STOC 2014
Blog post about this work: MIT theory student blog 
A Composition Theorem for Parity Kill Number [arxiv]
Ryan O'Donnell, Xiaorui Sun, Li-Yang Tan, John Wright, Yu Zhao
CCC 2014
The Complexity of Optimal Multidimensional Pricing [arxiv]
Xi Chen, Ilias Diakonikolas, Dimitris Paparas, Xiaorui Sun, Mihalis Yannakakis
SODA 2014
Faster Canonical Forms For Strongly Regular Graphs [pdf]
László Babai, Xi Chen, Xiaorui Sun, Shang-Hua Teng, John Wilmes
FOCS 2013
Invited to the SIAM Journal on Computing Special Issue
Multi-Stage Propagation and Quasipolynomial-Time Isomorphism Testing of Steiner 2-System
Xi Chen, Xiaorui Sun, Shang-Hua Teng
STOC 2013
Learning Mixtures of Structured Distributions over Discrete Domains [arxiv]
Siu On Chan, Ilias Diakonikolas, Rocco A. Servedio, Xiaorui Sun
SODA 2013
Information Dissemination via Random Walks in d-Dimensional Space [arxiv]
Henry Lam, Zhenming Liu, Michael Mitzenmacher, Xiaorui Sun, Yajun Wang
SODA 2012
Education
Ph.D., Computer Science, Columbia University, NY