Project Option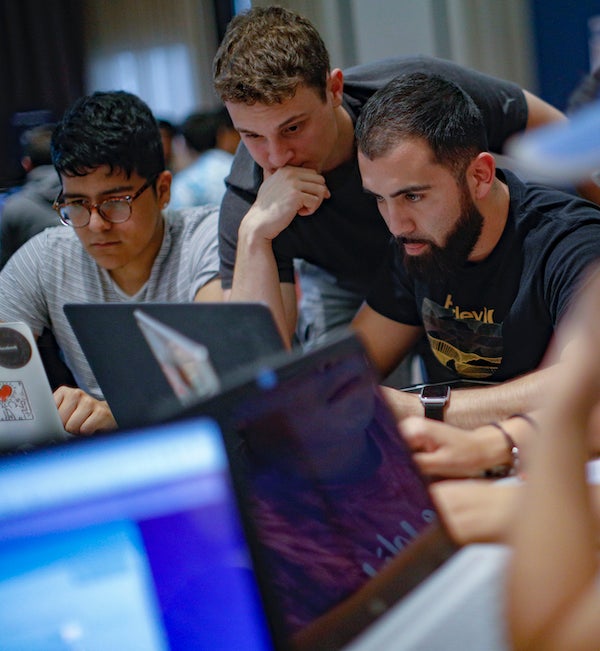 The project option for the MS in Computer Science offers a midpoint between the course option and the full thesis option. If you envision applying for jobs in industry after graduation, you may benefit from the experience of doing a project: companies will be able to see that you can see a project through from idea to completion, and you can choose a topic that is relevant to your career plan.
This substantive, capstone-style project experience takes the place of 4 credits of standard coursework. Examples of recent MS projects include:
Collabsearch: A Lightweight Application for Remote Collaboration
An Exploration in Improving Tools for Efficient Packet Classification
Deep Learning Framework for Predicting Food Allergy from Longitudinal Microbiome Taxonomic Profiles
Visualizing Religious Publics on Twitter in 2016
You will be guided in your project by a faculty advisor, and you will be evaluated based on the work you do toward the project and on a final written report. Both the project work and the written report must demonstrate a high level of professional skill, as determined by your faculty advisor and one other faculty member. You do not need to present or defend your project in order to complete the project option.
If you plan to complete the project option, you should identify a faculty advisor as you progress through the program and identify an area of study that interests you. When you have a project advisor in mind, reach out directly to ask the faculty member if he or she would be willing to advise your project.

Who is eligible to serve as a project advisor? You may invite any computer science lecturer; assistant, associate, or full professors; or adjunct faculty member. Your faculty advisor can help you to determine the second faculty member who will participate in evaluating your project. This second faculty evaluator can come from the computer science department or, if your faculty advisor and the director of graduate studies both approve, a full-time faculty member from another department at UIC. Your advisor and the director of graduate studies will help you to make sure that important criteria are met, e.g., that one of the two faculty members must hold at least a 50% appointment in the computer science department.

Once you have confirmed your faculty advisor, you should meet with him or her to discuss project proposals and expectations.

In the semester when you intend to do the work toward your project, you must register for 4 hours of CS 597, using your faculty advisor's course registration number. If you are required to maintain a specific number of registration hours that requires you to add more hours, you may register for more than 4 hours under CS 597 with your faculty advisor's permission, but no more than 4 hours will be used toward the requirements for the MS degree.

You will work throughout the semester on your project, with input and guidance from your advisor. The work you perform will be unique to your own proposal. Once you have completed your project work and written your final report, submit the report and the Certificate of Approval form to your advisor at least one week prior to the deadline, and provide your second faculty evaluator with a copy of the report.

Your advisor and committee member must sign the Certificate of Approval form. The signed form and the final project report should then be submitted to the Student Affairs office (905 SEO).

Your project report should be a technically focused and carefully written document. Some minimum formatting guidelines are below, but before you get started writing, consult your advisor, who may offer additional formatting suggestions or requirements.

Cover page that includes the project title, your name and UIN, and the names of your advisor and secondary faculty evaluator
Abstract
Table of contents
Introduction, chapters, conclusion and appendix/cited literature, beginning each chapter and section on a new page